If you're new to my blog, I'm a mostly American expat living in Germany. My contract here ends in about half a year, so don't want to spend a lot of money here on things I can't take back with me. Things like Christmas tree ornaments and other decorations. Two years ago I tried to make my own
paper ornaments
with varying degrees of success, and last year I made crochet snowflakes.
Even if you're not of the Christmas celebrating persuasion, these are great general winter time decorations and can stay up long after your other Christmas decorations come down!
I'm just going to get this out of the way here: the following photos here
are not mine, and belong to the crafters who made the snowflakes and tutorials. I'd also like to apologize for any mistakes I've made giving credit to the Russian sites, because google translate can only get you so far.
Paper Snowflakes
These
patterns
are by La Pappa Dulce
Some cool
3d Snowflakes
found at Kivitalo Ranskalaiseen Henkeen.
These ballerinas by Лёлины рукоделки dress up your snowflakes and are perfect for Nutcracker themes. The site is in Russian, but
the templates
are easy to find.
Download
these patterns as PDFs
for some Star Wars snow flakes by Anthony Herrera Designs.
And
here
are some gorgeous Game of Thrones houses Snowflakes by Krys Higgins.
There is a large collection of
snowflake patterns here
, at Joyzz.
Beaded Snowflakes
I tried to makes some of these, but they came out too floppy to use as ornaments. I wonder what they threaded the beads onto? I don't think you could use wire.
The
pattern
for these snowflakes and others can be found on Biserock.org (Russian).
The following are a part of a larger beaded snow flake roundup, all posted
here
by on a liveinterenet.ru account by user Таша92. I found them on pinterest, but it blocks me from following the link to liveinternet.ru. I figured out how to get around it, and the sites looks safe but I just wanted to give you the heads up than pinterest does not like these sites!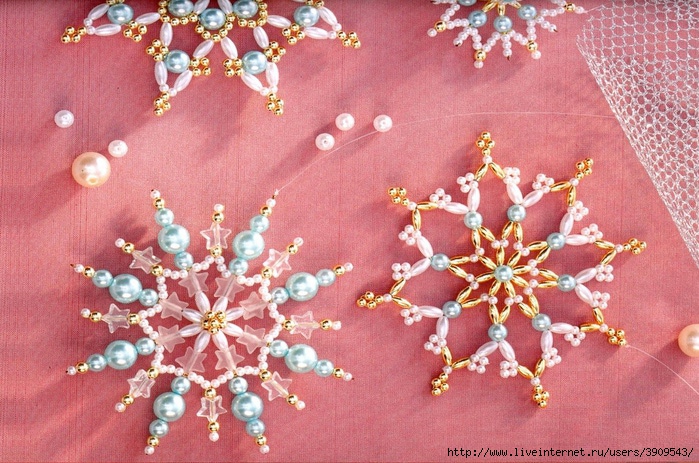 Crochet Snowflakes
Snowflakes are simpler to make than they look, since you work around the center and each little branch or section is repeated 6 times. Each 'round' moves you farther away from the center and you essentially work in a continuous spiral.
These beauties are from petalstopicots.com, they look a little bit above my level though! Find them
here
.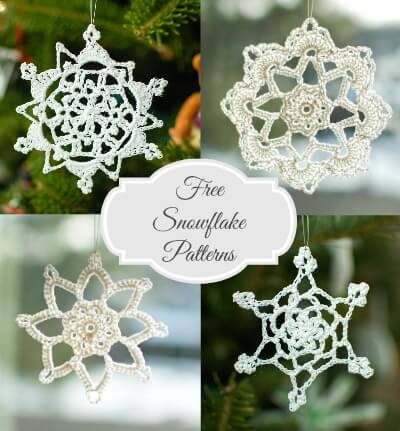 These two only require two or three stitches, and I suspect that if you prefer to do a similar stitch instead of one you can't quite get the hang of, they'll turn out fine.
Simple Snow Flake
by AccordingToMatt.com
I have successfully made these two, and I wear one of them on my hat!
Edible Snowflakes
These are made out of melted white chocolate! by Little Delight Cakes, find the directions
here
.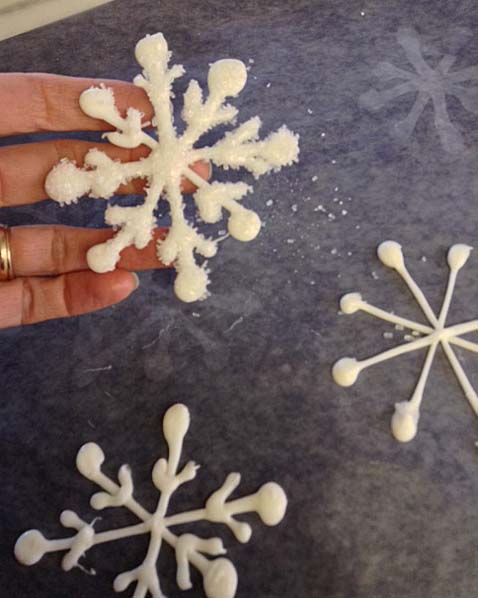 snowflake place mat
by Merrick's Art here because it's food related.